I'm always curious how political campaigns work (or don't).  Whether it's watching the fictional characters of the West Wing, (Toby: "we have to get out of New Hampshire")
or getting day-after stories like this one from Sasha Issenberg, it's fun to think about.  Sasha, the author of Victory Lab, lays out how the Cruz campaign strategized in Iowa.  Because there were so many candidates and because Cruz had to do well in IA, the micro-analysis they did mattered.
What's the line about the two guys hiking in the woods, "I don't have to outrun the bear, I just have to outrun you"?  Cruz just had to outrun Rubio, Bush et al.  He did that.
But how?  That's where it gets interesting.  The Cruz campaign decided in very specific instances to send a voter-violation mailer.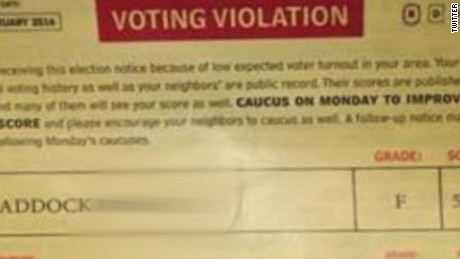 It shamed (or attempted to shame) marginal voters to show up at the caucus.  Here's what I find interesting – these were voters that Cruz's people weren't counting on anyway. In their mind they weren't going to show up (see the 'F' grade) up there?  But if they did, they would probably vote for Cruz.  So what did Cruz do?  He sent the voting violation mailers.
Did he get crap for it?  Sure.  Did he win Iowa?  Yes.  Are the two related?  I think so.
Cruz had to win Iowa.  Lose there and you're toast.  But what's his path now?  538 thinks it's "get a 2nd in N.H. and then roll again in South Carolina".  Can he micro-analyze again?  Will he send out similar South Carolina mailers?
We'll see. No matter what, I have to admit that he saw these marginal Iowa votes and rolled the dice.  Ethical?  No.  Effective? Maybe.